After the State of the Union address by Trump, this popped up in a search for something not related to the President, but it seemed so right and timely that I had to make note for later reference.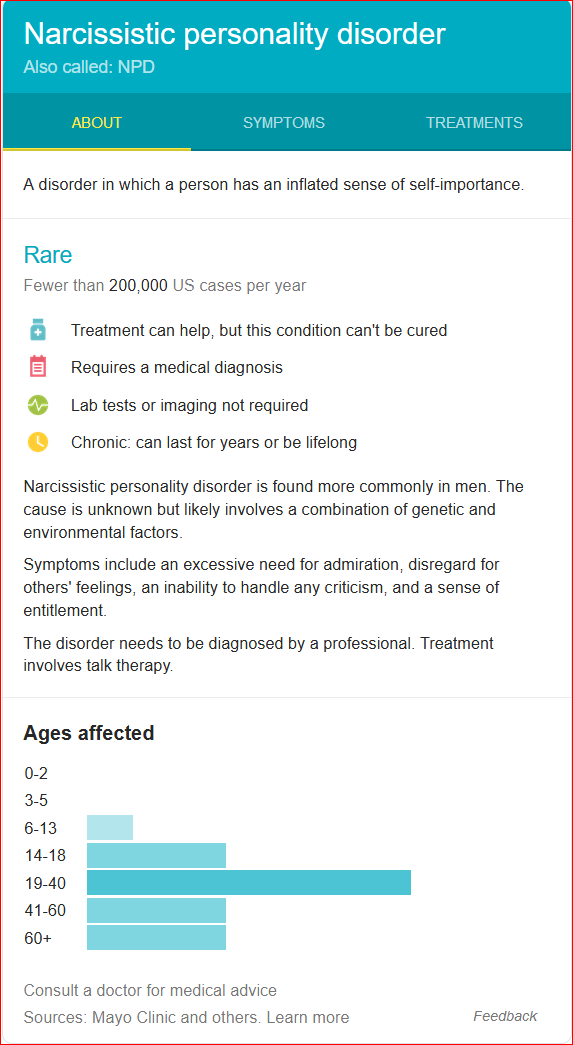 Definition
The hallmarks of Narcissistic Personality Disorder (NPD) are grandiosity, a lack of empathy for other people, and a need for admiration. People with this condition are frequently described as arrogant, self-centered, manipulative, and demanding. They may also concentrate on grandiose fantasies (e.g. their own success, beauty, brilliance) and may be convinced that they deserve special treatment. These characteristics typically begin in early adulthood and must be consistently evident in multiple contexts, such as at work and in relationships.
People with narcissistic personality disorder believe they are superior or special, and often try to associate with other people they believe are unique or gifted in some way. This association enhances their self-esteem, which is typically quite fragile underneath the surface. Individuals with NPD seek excessive admiration and attention in order to know that others think highly of them. Individuals with narcissistic personality disorder have difficulty tolerating criticism or defeat, and may be left feeling humiliated or empty when they experience an "injury" in the form of criticism or rejection.
Related Personality Disorders: Antisocial, Borderline, Histrionic, Paranoid.