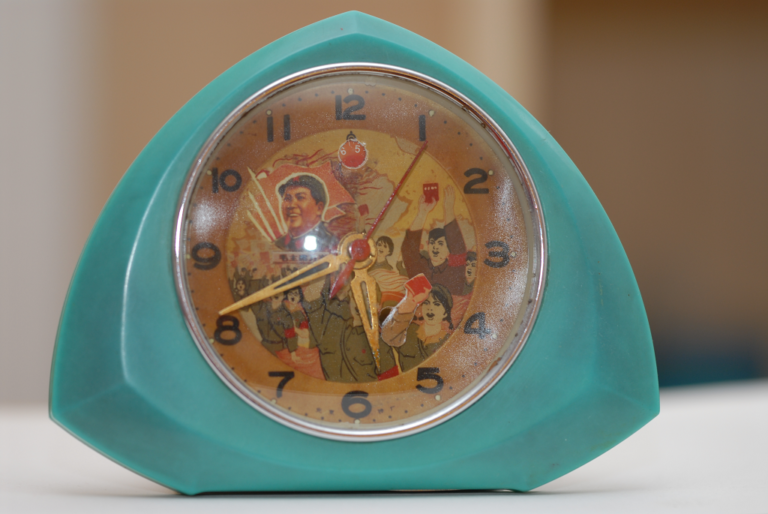 Sometime in the early 2000's, I took a trip to Paris from Neuchatel Switzerland, where we lived. Getting to Paris was easy as the TGV ran between Zurich or Bern through Neuchatel to Paris. You could literally have breakfast in Neuchatel and four hours later, have lunch in Paris.
The hotel I stayed at was by the Panthéon and just down the street, by the Metro station there was a brocante or flea market where locals had set up tables and were selling items. If I see a "marche au puce", I must go and I happily looked over the goods on sale. One thing jumped out at me, a small turquoise and red alarm clock. I bought it for a few Euros.
When I got it back to the hotel, I wound it up carefully and it ticked away. I was amused by the fact that in the lower right side you could see a young woman waving "Mao's Red Book" back and forth. Knowing the history behind the "Cultural Revolution" it is actually a chilling symbol of an era of upheaval, to put it mildly.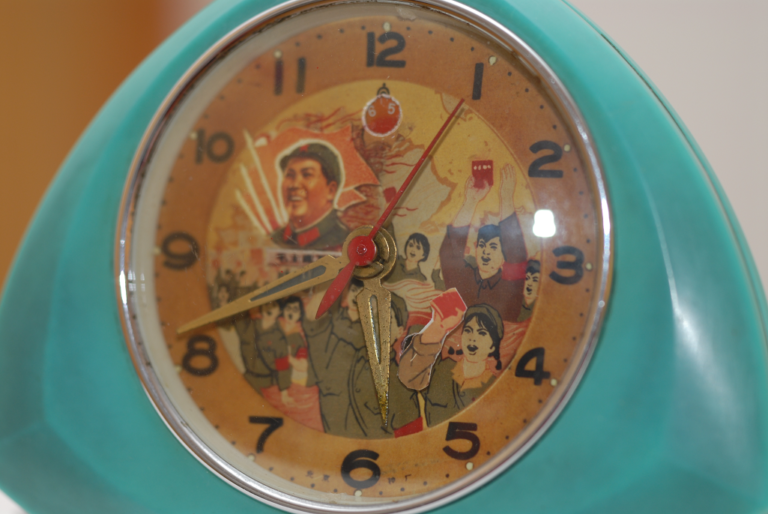 We kept the clock for a few years. We became familiar with the MIH, the Musée International d'Horlogerie in La Chaux-de-Fonds, a village just up the road at the top of the Jura, and its extensive collection of timepieces, joining as a dues paying member to support it. On one of our trips to the museum, we brought the clock along and showed it to the curators.


They liked the design and the book waving escapement. We offered the clock to the museum and they were happy to accept it. Along with a number of very expensive and exotic donations and acquisitions, we got a mention in the quarterly members newsletter and are grateful that the clock will be well taken care of and possibly shared with others. The museum is truly a one of kind, if you are in northern Switzerland, you should carve out the time to visit La Chaux-de-Fonds and MIH, it is an afternoon well worth the effort.