The addiction continues – today I added a RCA Victor 4X (the small one in the photo) and a General Electric E-72 All-Wave. The GE is an AM broadcast, Police, and SW receiver. The RCA is an AC/DC table top model and both date from the 1936 time frame.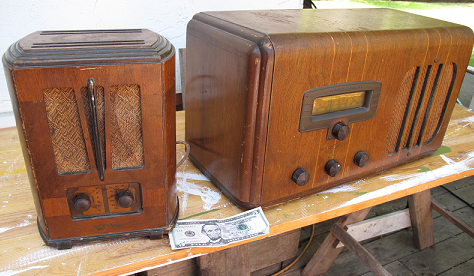 So, we can easily see this is gone beyond the simple addiction to a more complicated "relationship" with these devices. These two came from a good home via Craig's List for $25 each. They are in pretty good shape having lost a filter capacitor from the GE and the power cord from the RCA. They are now number 3 and 4 in line for modernization. It is believed that the GE will be a good "boomer" with fine reception and a big speaker.
Last Saturday, my wife and I took a drive out to the home of the Maritime Radio Historical Society's receiver site outside Inverness, CA. It isn't a long drive from where we live, a meander through the Marin country side along Tomales Bay. It is in a very remote location, one that remains a quiet zone for radio noise. There are no large emitters of noise in the area.
The site began operation in 1925 and you can tour it virtually HERE. We were greeted by the warm and informative Steve King who stewarded us around the inside of the site and explained the history using a wonderful story line. You can get a good idea of what was going on in the era of radio in the 1920's by reading Wikipedia's article on RCA. There are other nuances and lore found on the MRHS website pertinent to KPH and how it ended up as part of the National Seashore.
There will be more on old radios soon.