---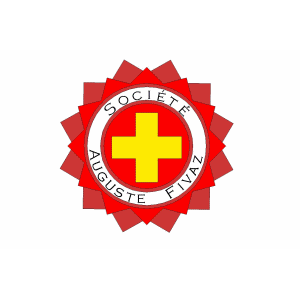 ---
Société projects in chronological order:
---
What is La Société Auguste Fivaz?
Good question. We're not really sure. You could say it's a creative framework… either way, it's a great excuse to eat, drink, talk and do things together. If you have a better idea, let us know…
Who are the members of the Société Auguste Fivaz?
The core honorary membership expands and contracts (doesn't everything?) to meet the needs of La Société and its members. A larger group of 'friends' expands and contracts even more depending on the project. That's a lot of expansion and contraction, we know.
Auguste who? La Société is named after Auguste Fivaz, a Neuchâtel liquor and absinthe merchant active around 1900. To see his calling card, click here. The correct French pronunciation of his last name is FEEVAH, without the Z; like "You give me feevah".
---
Honorary members of the Société for 2002/3 are:
Anne Monnier; Athena Sargent; Karin Maurer; Marco Salomoni; Ger Banaghan, François Righi.
---
Friends of the Société for 2002 were:
Alan Watson Anna Contene Anne-Laure & Jèrôme Jaquet Brooke Miller Conchetta Elena Arrelano Erwin Maurer
Fred & Kathy Berezin Helen McCarthy Isabelle Mary Carver Mme. L. Loersch Phyllis & David Sharp
Pier Schwab & god-daughter Little Schwab Roger Little * Edwina Little The Wolf Family Teresa O'Toole
* rated as GREAT due to incomparable stamina and support.
---
Friends of the Société for 2003 are:
Erwin Maurer Mme. L. Loersch Susanne Dändliker
For the Lac de Fivaz in particular, La Société would like to thanks the following for their donations in time, money and enthusiasm:

Alan Watson; Alexandre Caldara; Amelyse; Athena Sargent; Carole Ungar; Catherine Montalto; Catherine Robert; Chez Auby;
Christianne Jeanmonod; Club de Plongée – 200 Bars, Hauterive; Conchetta; Doris Riss; Elie & Abel Reichland; Elise Youmans;
M. Gasser; Francesco Giaccari; Hobby Mathlouthi; Ilire; Jacqueline la traductrice; Joaquim; Laurence; Laurent; Lori Kohler;
Lucia; Madame Laura Loersch; Marc Jeanmonod; Margrite Guyomarch; Maria Economidis; Michelle of 'Cinemas Neuchatelois';
Nicole; Noel TV; Pascale; Pascale's sister; Pattus Tabac; Peter Danielson; Petra Kiefer; Pier Schwaab; Pietro;
Raymond Pizzera; Major Spitznabel and 'les pompiers Neuchâtelois; Stanislas Joli; SD Bijoux; Stella & Stephane;
Le Turquoise; Vin Libre; Vivre En Fleur; Wanda Hänggi; Enzo.
Former Non-honorary member (still owes us money and moved away): Pedro (too many middle names to mention) Santos
---
Manager of the Gaelic outreach branch Cumann Auguste Fivaz:
Ger Banaghan
Executive Vice Presidents of Operations are Dave Brooks and John Sergneri.
---
As the months have passed, La Société has 'met' a number of characters whose help has been indispensable.
Auguste Fivaz (see above)
Dr. Schoop – an apothecary bottle bought at the 'brocante', or antiques market in Le Landeron, Switzerland, carried the name Dr. Schoop, and featured prominently in "Expo 02 Fin". Doctor Schoop has an eye for social satire, and an impressive command of nineteenth century chemistry.
Conrad Meier – it's cold in l'atelier Auguste Fivaz. No, really, it is. Back in November 2002 - we bought a number of large, used curtains at "Ali Baba's Cavern", Serrières so we could make it through the winter. The fabric is exquisite, and a number of these curtains bore makers' marks indicating that they were concocted by Conrad Meier - Zurich. See the link above for details. Herr Meier continues to advise us on all questions of a fabric nature.
Disclaimer: We've done some research on the above 'individuals' and have turned up some information, but none in Switzerland. La Société Auguste Fivaz would like to extend to you its apologies if you are listed above, are alive, and have found our content offensive. Equally, we apologise unreservedly if you have deceased relatives with these names and have found our site content offensive. If this is the case, please simply send us an email and we will happily update the site. Perhaps you would prefer to be a "friend"? Perhaps you have a lawyer, in which case we will drop the whole matter completely. Very fast. Very. Really.
Société Auguste Fivaz
The unique contents of this website are copyrighted, © 2000 - 2004 Société Auguste Fivaz All Rights Reserved
Updated 25-DEC-03