It was 20 years ago today … we were new to Europe. I had gone ahead in October of 1999 to find an apartment and get some basics set up. A stayed behind in Northern California to wind things down and take care of the odds and ends before coming in November to our new home in Neuchatel, Switzerland.
My wife and I had the good fortune to think ahead about where we wanted to spend the change to the new millennium. I had amassed a huge bank of points from a luxury hotel chain during work I had done in 1997-1998 in Japan. So, we searched for destinations we'd like and ended up selecting Amsterdam. In August, I booked us into a 5 star hotel for 6 nights over the New Year 1999 – 2000. New Years Eve was on a Friday night.
December 26, 1999, Boxing day, major cyclone Lothar blew through central Europe leaving 148 dead, power essentially out in France, and while Switzerland wasn't as badly hit as France, whole swaths of forest were ripped up, roads closed and train service disrupted. We were leaving for Amsterdam by train on the 28th. We were new to the Swiss rail system, and while the trains were back on line on the 28th, the service was still spotty in places.
We were supposed to change trains in Biel/Bienne to connect in Basel with the train to Amsterdam, but we didn't know this, and when the conductor checked our tickets, he told us it was possible to catch a train to Basel in Olten, the next major station. As it turned out, the other train to Basel from Biel was cancelled due to trees on the track, so we would have missed our connection anyway.
It was a good thing, and as it turned out,we didn't have to change trains at all, the one we caught in Olten was the Swiss train to Amsterdam. At this time, these older Swiss trains still made trips across Europe, this one from Milan to Amsterdam.
We were traveling first class so once we were settled in, we were quite comfortable and had nothing to worry about until we arrived in Amsterdam that evening. It was quite snowy, and the train was running a bit slower than normal, but soon  saw we were on the "castle a minute" route down the Rhine river, a route that the SBB (Swiss Rail) would abandon a few years later and replace with an overland route via the high speed ICE trains run by Deutsche Bahn. We always said how we preferred the Rhine route on the SBB even though the ICE trains were more modern and faster.
(A discussion of the alternate rail routes on the Rhine.)
Food was the only thing this train didn't excel in; our selections were limited to some suspicious deli sandwiches, chips, etc. We managed to not starve during the 8 hours we were underway.
Arrival in Amsterdam was easy, and in these pre-EURO days, we had bought Guilders before we left, so we could pay for the taxi to the hotel. The weather was cold but there was no snow when we arrived. The hotel was wonderful, the room was spacious, heated towel racks and floors, and a large bath. It is the Grand Hotel Sofitel now. In fact, when we booked in August, it was the Grand, but by the time we arrived, it had changed over to some other chain which still honored our hotel points, thank God!
With our base established, we were able to take advantage of the many wonders of Amsterdam. It was the first time in that city for either of us. Its reputation was well known, and we had no problem adapting at all. That many people spoke English made getting around very easy,and we were able to meet our desires quite readily.
I worked in IT, and at that time, we were focused on the possible disruptions due to Y2K. There was an additional buzz concerning it, which added to the excitement of seeing the 20th century out. In our case, we had bought a few nice bottles of Champagne, which we kept on ice in the hotel room just in case the world ended.
After dinner that night, we went down the street to the coffee shop to indulge in a little legal marijuana. That taken care of, we had noted that the street outside our hotel, along the canal, was going to be in carnival mode in a big way. Seems the Dutch love fireworks a great deal, and we had seen many "vuurwerks"vendors around town in the preceding days.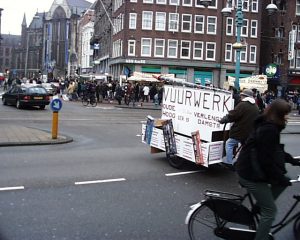 Things get a little fuzzy about here, champagne, weed, and 20 years makes some of the memories fade. I do recall dancing in the street outside the hotel with throngs of people, champagne bottle and glasses in hand. When we ran out, I went back into the hotel to get another and since it was getting close to midnight, management had thought it prudent to shut down the elevator just in case it malfunctioned because of a Y2K bug. A burly security guard told me I'd have to take the stairs to the room until they validated that the lift would work correctly.

Well stocked with wine, we watched in awe as the neighborhood exploded in dance, noise, and revelry we staid Americans were simply not used to. People were unfurling huge celebration strings of LARGE firecrackers out of third story windows, and someone on the street would oblige and light it up. Bottle rockets were flying everywhere, sky rockets lit the night overhead, everyone was wildly enthusiastic with the welcoming of the year 2000.
Up the canal and over the bridge was the street that leads to Dam Square, which was set up as a main celebration point including music, light shows, and I'm guessing more. We were only 2 blocks away, but the streets were so crowded, we were virtually trapped where we stood. We could hear the music blasting and see the lights, but we were just as happy to stay in front of our hotel and party.
I am not sure how I did it, but I got up the next morning around 8 AM and took my camera out to record the damage.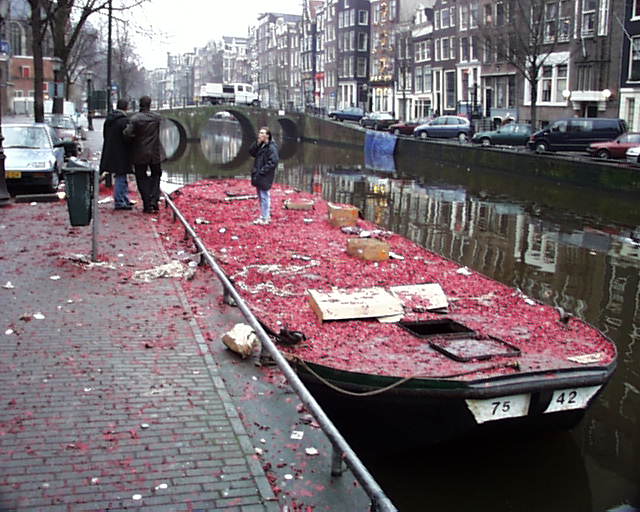 The streets were a mush of red firecracker paper combined with spent rocket casings and god-knows-what-else, which was actually slick on the cobblestones like wet snow as you slogged through it.
After the New Years party, the rest of our stay was very tame. We returned to Switzerland the same way we came, up the Rhine this time, once again on the castle-a-minute route then back to our routine and work that Monday, the 3rd of January. The world survived the Y2K transition with only a hang-over as far as we were concerned.